Last week, we finally reached the only item that had been on our agenda for months: the Milford Track. Four days, three nights, 55 kilometres, two boats, all in one big fjord area.
The Milford Track bills itself as "The finest walk in the world" and has been stunning walkers for over a century. It's known for two things above all others: stunning natural beauty and rain. The track runs from the north end of lake Te Anau, through glacier carved valleys, over a saddle to Sandfly Point. It's named this way not because there are so many more sandflies than anywhere else in Fiordland, but because Maori legend has it that this was where the goddess of death created the sandfly to stop humans from lingering anywhere too beautiful. From Sandfly Point you take a boat to Milford Sound, one of New Zealand's biggest tourist attractions. Suffice to say she did a good job: stop anywhere for a breather on the track and you'll get swarmed.
The popularity of Milford Sound and the Milford Track appeals to a lot of hikers. Unless you want to pay thousands of dollars to do a more luxurious, guided version of the walk, the Department of Conservation will only let you walk the track in one way over four days, sleeping at three huts, each housing only 40 hikers. This high demand for the hike, with low numbers allowed to do it per day means that you have to pre-book long in advance of your start date. We booked in July and already the warmer days in November and December had sold out, meaning we'd start on October 31st.
The huts had gas and water, otherwise we had to carry everything ourselves. More than that we had to carry our rubbish out with us too. Hiking with a heavy pack was something we hadn't really practised: with our other hikes we knew we could come back to a nice warm campervan. Thankfully, we didn't need to walk that far the first day. The huts come with rangers who give a talk every night to talk about the surroundings and the route for the next day. They varied from so experienced that every fact came with an anecdote, to someone who did the talk for the first time. Choice quote about fire procedures: 'If the heli pad burns down, we're all in the shit'.
The walk began well. After a boat ride with a friendly local guide ('The doctor who discovered these falls was the same one who took out my tonsils when I was seven') we were dropped off only five flat kilometres from the first hut. The packs felt fine; we stopped feeling the straps and the weight didn't seem that bad. Maybe we would become one with our backpacks and just feel a little heavier? Clinton hut, our first turned out set the pattern for what to expect: a large sitting and cooking area, two or more rooms with bunk beds, and an enthusiastic population of sandflies. School camps came to mind immediately. There was also a lake nearby for swimming/washing yourselves as quickly as possible before freezing or being eaten alive.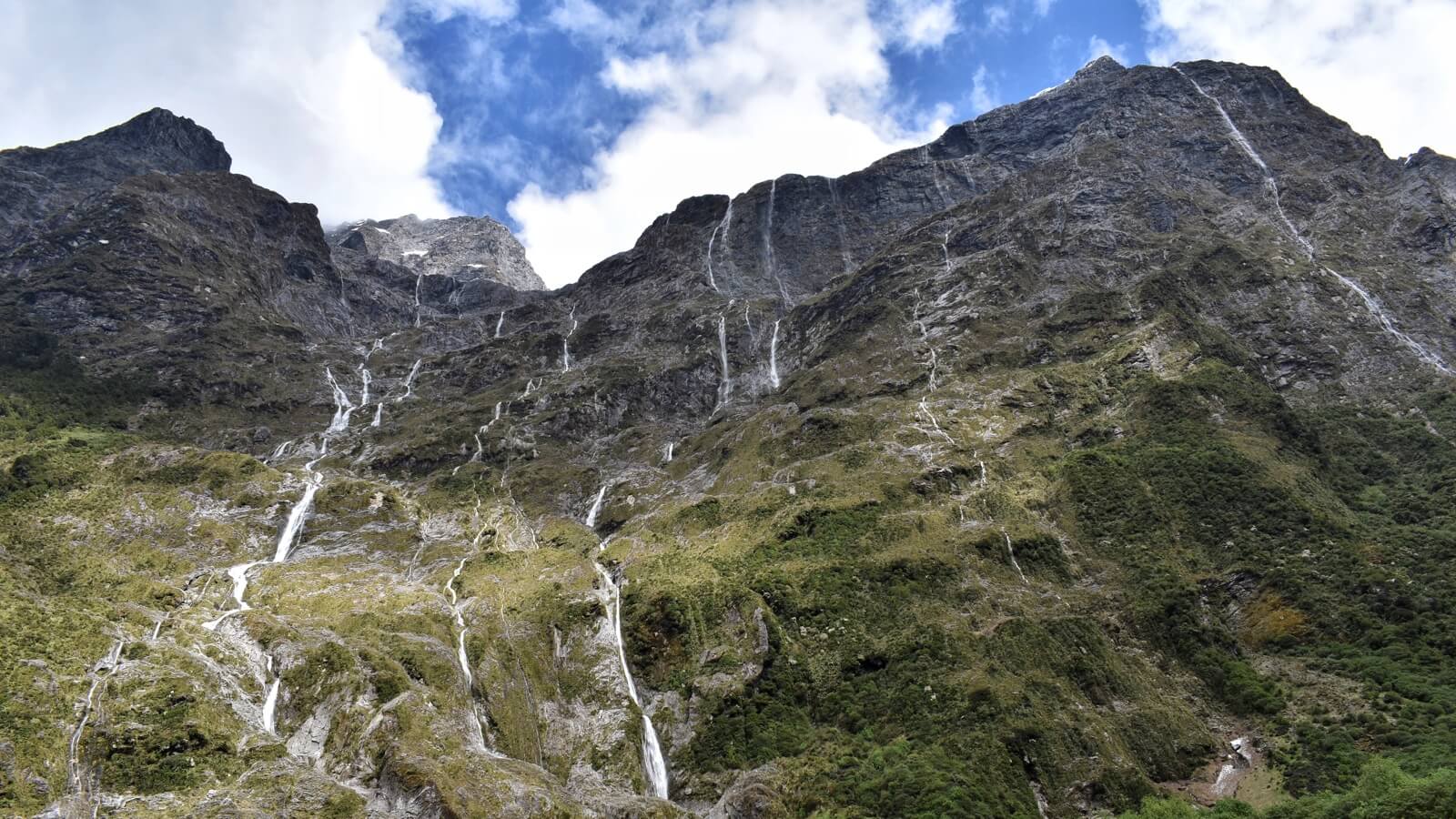 Day two was the first serious hike, 16.5 kilometres up to Mintaro hut. Most of this walk was fairly flat, walking through a valley surrounded by large cliffs with lakes and waterfalls. In the distance, avalanches of melting snow rumbled. We had enough breath to discuss the weather situation: forecast for the next day was for rain, which meant the possibility of low clouds that would take our view away. The highlight of the trek is the Mackinnon pass on the third day which is the highest point of the walk and has views of mountains all around. We contemplated pushing on past Mintaro hut and going up there the same day to make sure we got in the views before the weather stole them away.
We sped up a bit and did not stop for lunch before reaching the hut. This meant that the last five kilometres to the hut, which were steeply uphill, were especially difficult. It felt as if two orcs were hanging from our backpacks trying to wrestle us to the ground. Going uphill they increased gravity by factor three, going downhill they tried to get us to stumble into a scenic ravine. The packs themselves suddenly didn't seem that comfortable any more: straps digging into shoulders, chafing hips… We started to wonder about the things we decided to bring. A glass jar of instant coffee didn't seem that heavy, but there were probably lighter options. And was bringing the chunky cooking utensils that we got with the van the best option?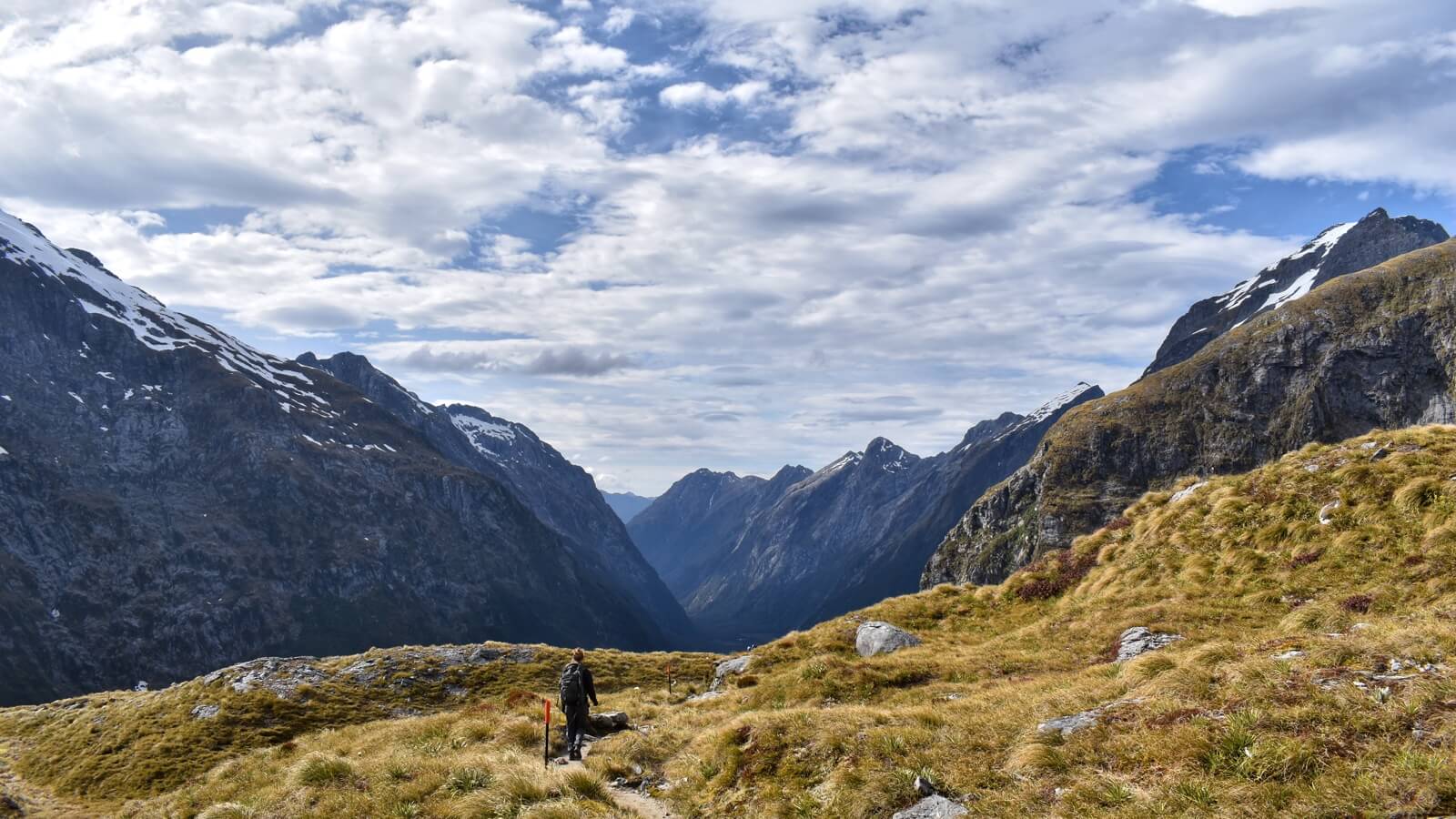 Once we reached the hut, we threw off our backpacks, had a quick lunch, and decided to head for the pass with some other hikers who had the same idea. Walking without backpacks felt incredibly light, and the views on this climb were great. On one side we could see the valley that we had walked through getting lower and lower, on the other snowy peaks started emerging. Once we were above the tree line it was only a small walk to the saddle of the mountain, and full view of the valley and the mountains on the other side. Clouds were a bit low, but we could mostly see the whole thing, and happily walked around for a bit before getting back to the hut before dinner. The way back started to feel pretty tiring without new panoramas to distract us. It was only when we stumbled back into the hut that we realised how long our little detour was. We added 8km of climbing and descending to our day, getting to a total hike of over 25km.
It was great to spend some more time with our fellow hikers on this outing since we were quite curious about the kind of people who would join this trip. Most people would arrive at the huts at different times and go swimming or take a nap in the afternoon, but after dinner everyone would hang out in the common area to compare meal solutions and play cards. As it turns out, a lot of them were as new to the multi day hike as us, and were also struggling with the packs and sleeping in bunks. A strange kind of group think developed in the mornings, where some people would leave at dawn, waking up others who would decide to leave early as well, forcing everyone to be up early. Some days we were the last to leave at 8am, which is a bit early for a six hour walk. As a result of the early mornings and the long walks, nobody had a lot of extra energy in the evenings, and when the automatically timed lights in the hut went out at 9pm everyone disappeared into their bunks.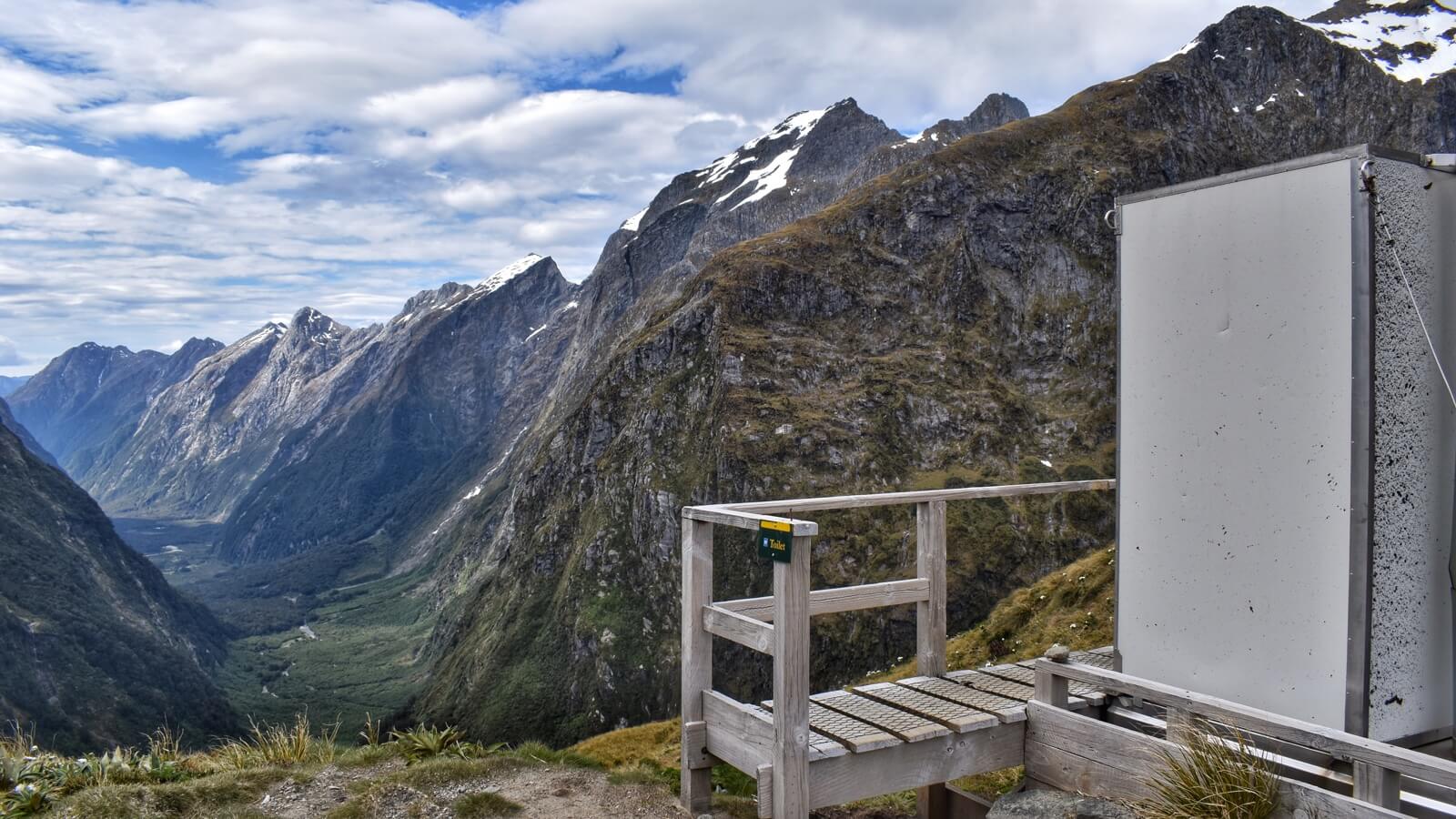 We woke up to day three with some apprehension. The climb we had done to the pass was not completely straightforward, and would be a lot more difficult with our backpacks. The hut ranger had warned us about the way down, which was steep, especially an emergency track set up to avoid the avalanches which hadn't quite stopped for summer yet. The good news was that the sky was unexpectedly sunny and clear. We set out early to beat the rain but we needn't have worried: through some miracle it was dry all day. Our bodies must have started to adapt to the distances and extra weight, because the climb and descent were not as tiring as expected. Our legs only started to protest after another detour to Sutherland falls, New Zealand's highest waterfall at 580m, and did not stop complaining until we had reached the hut for some well deserved dinner.
During dinner time in the hut we kept noticing that everyone had a different approach to food. We thought carrying all our food on our backs meant being as Spartan as possible and only carrying boring bland food. We brought porridge for breakfast, bread with jam for lunch, one meal of tins of chopped tomatoes and beans, and two freeze-dried meals. These you can make in a bag by just adding boiling water and letting it stand for ten minutes. We had two meals that had a beautiful picture on the front but were mostly filled with spongy squares that claimed to be chicken but seemed to be heavily inspired by tofu. After a long hike they tasted pretty good, but were not enough to really fill us up. However, some of our fellow hikers had come prepared. Some would have a whole selection of different crackers and spreads for lunch. Some had prepared zip lock bags with interesting ingredients to cook all meals from scratch. A variety of nifty camping pans, coffee makers and other utensils were on display. Most people had brought something you could look forward to at the end of the day: chocolate, some wine, cheeses… We stared at the delicacies while filling up with nuts and took note for next time.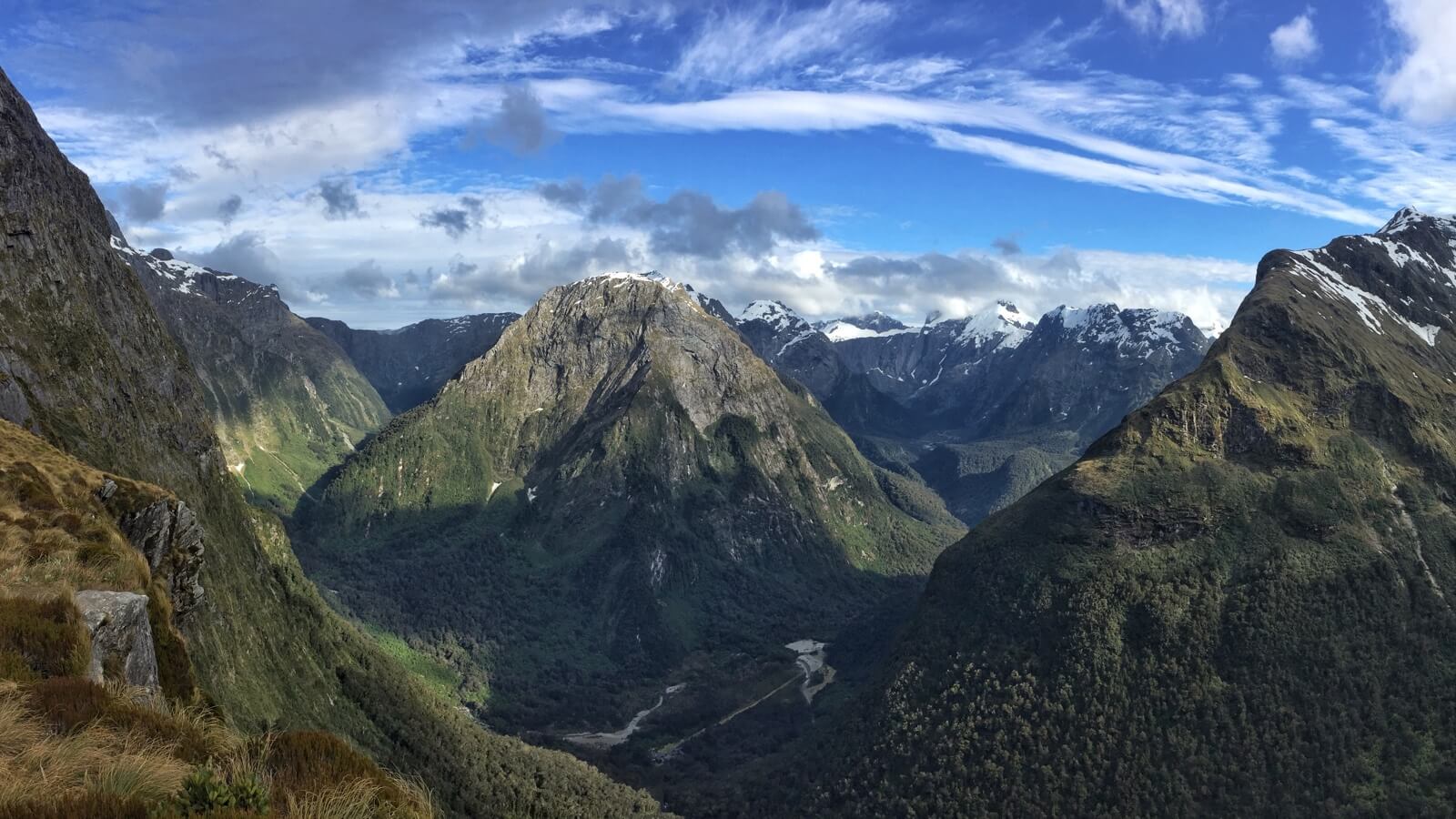 'You will want it all to be over' said the hut ranger about the last bit of the walk on day four. At 18 kilometres it is the longest single hike of the trip for those who don't do silly detours. It is mostly flat, but you have some good views of the mountains you have just hiked through, some more waterfalls, and Milford Sound at the end. Sadly, this was the day when the clouds really opened. For most of the hike it felt as if we were under one of the waterfalls, and the path slowly filled up with puddles and streams. The cold and wet made it easy to keep up a brisk tempo, and we were almost surprised when we reached the shelter at the end of the track where we waited for the boat back. Slowly the shelter filled up with happy but tired people who didn't have much energy to discuss the amazing sights behind us. On the boat, we compared notes on how waterproof our expensive rain gear actually was. Answer: only very few of the group had a dry thread left. We were very lucky to have only one day of rain!
The bus out of Milford Sound back to Te Anau was surprisingly a highlight. People had told us before that it's even beautiful in the rain and they were right. Waterfalls suddenly appear that only exist for half an hour after the rain stops and seeing the sheer cliffs in the mist adds to the drama of the place. Back in Te Anau we went for some well earned pizza and beer with fellow hikers, and kept running into more of our group, even 80km out of Te Anau at a free campsite.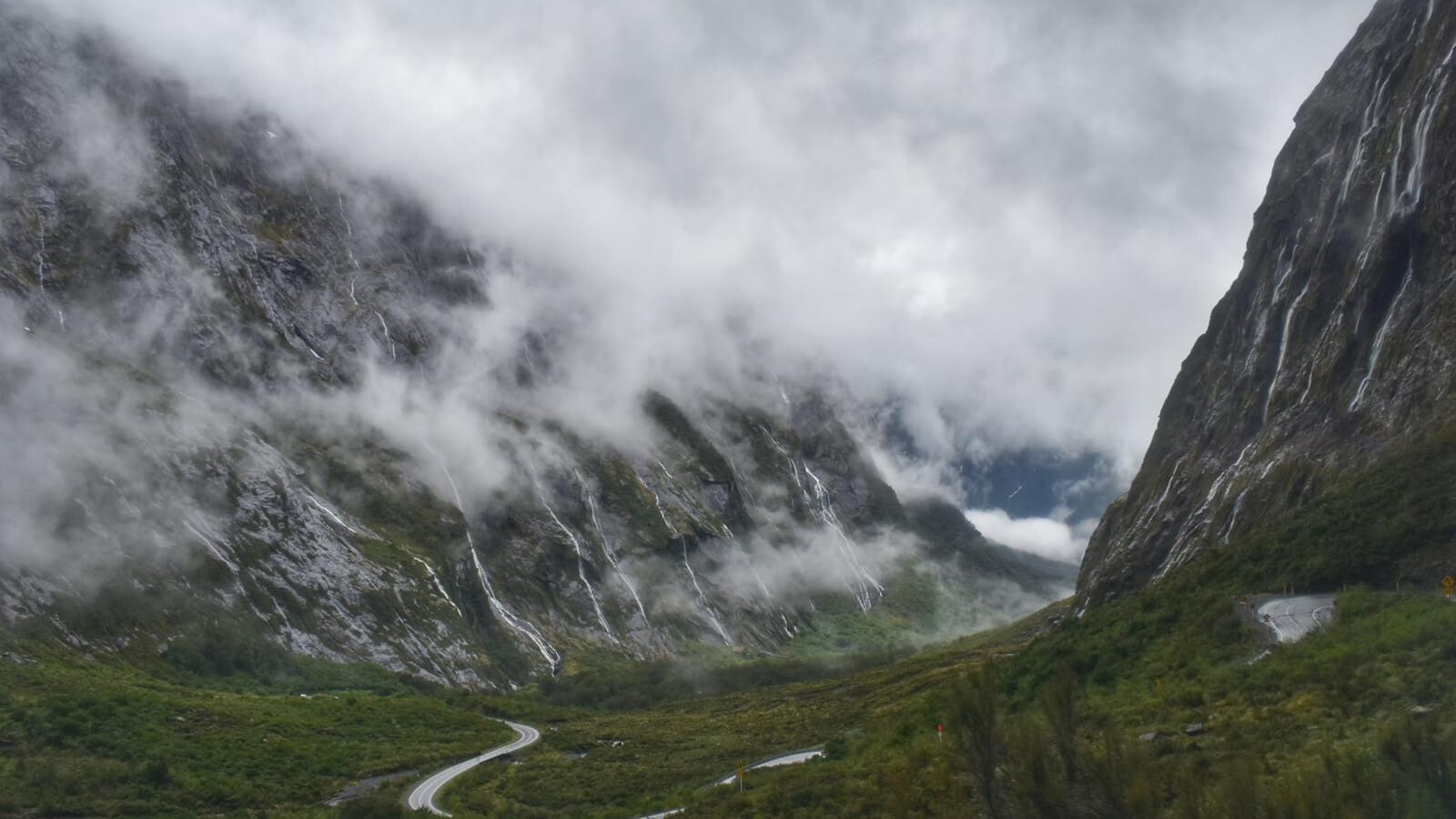 We are currently warming up on the east coast of the South Island, also known as Scottish New Zealand. Less amazing mountains, more endangered animals and lighthouses. Our next multi-day hike starts next week, so we have some time to prepare our zip lock bags!